Sonny Joon is a famous character in the Nancy Drew series. He is a fun guy who loves to doodle and eat Koko Kringles.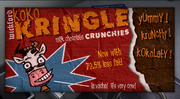 You never get to see him, but Nancy always ending up in places he's previously worked! It's always a strange coincidence! Sonny Joon is finally seen in
Nancy Drew: The Shattered Medallion
.
About this character
Edit
Sonny is a wild, crazy, fun guy who loves to draw and do doodles and often does this more than actual WORK. He has appeared in 5 Nancy Drew games, but sadly he never shows himself. His first "appearance" was in Secret of the Scarlet Hand, he was the previous deputy curator at the Beech Hill Museum in Washington, D.C. Then, he went to work all the way across the world to work as an assistant for famous designer Minette in France in prior to the events in Danger by Design. Then he went all the way to Venice, Italy in Phantom of Venice. He appeared once again in Trail of the Twister! And finally, of all places who would think he would end up working at the Primate Research Center in the deserted island of Dread Isle all the way down in the Bahamas! Man, does this guy get around! If one looks through the guest registry on Miwako's computer in Shadow at the Waters Edge, Joon can be seen on page 2.
Sonny is also included in the game The Captive Curse as a previous employer at the castle. Nancy Drew gets the chance to view his resume clarifying all of his previous jobs in this game.
According to Tomb of the Lost Queen, Sonny is working for the S.P.I.E.D, giving seminars and writing books about aliens.
In The Deadly Device, Nancy Drew gets knocked out and is trapped in the photolithography room, in the laboratory. When she escaped through the ventilation system there are these stickers the wall of different shapes, colors, numbers, and especially letters. When those letters are spelled out numerical order, from the numbers provided, they spell out 'Sonny Joon was here'.
In The Shattered Medallion, Sonny Joon is the host for the reality T.V. show Nancy and George compete in.