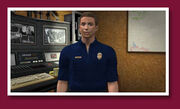 Biography
Edit
The newly hired security guard, Harlan, has done quite a bit of job hopping in the past. He's eager to prove that his bosses should keep on permanently. Could he be setting up a few "accidents" so if he solves them he'll look like a hero...?
Ad blocker interference detected!
Wikia is a free-to-use site that makes money from advertising. We have a modified experience for viewers using ad blockers

Wikia is not accessible if you've made further modifications. Remove the custom ad blocker rule(s) and the page will load as expected.