Alibi in Ashes
Talk

0
117pages on
this wiki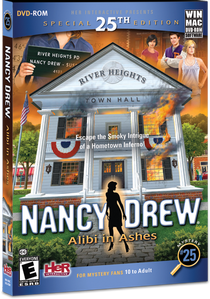 Alibi in Ashes is the #25th game in the Nancy Drew PC Adventure Game series. It was released in October 18, 2011
During the River Heights Clues Challenge, Nancy Drew is accused of arson because she got stuck in a fire at Old Town Hall, and you as Ned, Bess, and George must help prove Nancy innocent and catch the real culprit.
Characters
Edit
In the Nancy Drew series, players have control over the characters' movements and dialogue, through clickable areas and programmed speech sequences. In most games in the series, Nancy Drew is the only playable character. Alibi in Ashes will have more playable characters than any other of the previous games, with the most number of playable characters per game having been three.
Nancy Drew: Nancy is an American amateur detective from the fictional town of River Heights. She is the prime suspect in the town hall arson case, despite her claim of innocence. Though under arrest, she still works to prove her innocence from the police station.
Ned Nickerson: Ned is Nancy's handsome, loyal boyfriend. He does anything he can to prove Nancy's innocence. Though Ned is a prominent character in the book series, this is the first time he will appear in person, rather than a phone character, in the game series.
Bess Marvin: Bess is one of Nancy's best friends and George's cousin. Despite her high-strung nature, Bess uses her beauty and charms to help prove Nancy is innocent.
George Fayne: George is one of Nancy's best friends and Bess' cousin. Though rather cynical and sensible, George's knowledge of technology and her desire to help Nancy come into use to finding the real criminal behind the arson.
Brenda Carlton: Brenda Carlton is a television reporter for Heights Nine News. She loves a good news story, though her exaggeration can sometimes overshadow the truth, even to the point of hurting others.
Deirdre Shannon: A longtime rival of Nancy's, Deirdre is willing to do anything to put Nancy down. She is competitive, haughty, and very wealthy, though she has a soft spot for Nancy's boyfriend, Ned Nickerson. She and George absolutely detest each other.
Alexei Markovic: A former amateur detective, Alexei is now an eccentric recluse, after one of his cases went wrong. He currently owns an antique shop in River Heights.
Antonia "Toni" Scallari: Toni is an official on the River Heights City Council, and owner of the local ice cream shop, Scoop.